A month and a half ago we moved in with my Grandparents. My Grandmother is a seamstress. She owns her own business. She does
custom embroidery, alterations, and screen printing.
Her skills far exceed the above mentioned areas. She has made wedding dresses, wedding cakes, dozens of quilts, pants, painted houses, built walls-- you get the picture. I knew when we moved in with my grandparents that I was going to have a unique opportunity--that if I asked-- my Grandma would delight in showing me how to make whatever I wished.
When I was pregnant with Avey I spent a couple days with my Grandma learning how to make hooded towels. We had such a great time and it was such a fond memory that I was excited to learn more. My Grandma is a patient teacher she is someone who will give help when needed without being overbearing.
A couple months ago I found a neat idea on pinterest and I knew that in order to pull it off I would need my Grandmas help. The week after we moved in I asked my Grandma if she would teach my how to make a pillow case and more importantly I wanted to know how to use her
BIG
embroidery machine. She was excited that I was interested in something that she loves so much. She jumped at the chance and we were off and running in no time.
I learned how to use her embroidery program and I learned how to use her machine. I started to help fill orders.
Inspired by her enthusiasm and spurred on by a project she had going I decided I wanted to learn how to make a quilt so she took me to a quilt shop she loves. I was enthralled and severely overwhelmed by it all. I wondered around the shop scrutinizing and touching all the different fabrics. Listening to much more experienced women talk about all the different projects they had going on and all I could think was--
"I can do this."
"I can make beautiful, extravagant things that people ohhh and ahhh over."
"I can adopt this skill that would enrich the lives of my family and those around me."
I stopped dead when I spotted a fabric with the preamble to the constitution printed on it. I quickly gathered stripes, stars, and things that reminded me of America-- an idea quickly forming. For those of you who have never been to my house (before or after I got married) my entire living room (before I got married it was my bedroom) has an Americana theme. Brady-- patriot that he is-- is a fan of my decor choice. With fathers day around the corner I thought that I'd surprise him with a new quilt for the family room. He loves our country and our constitution-- I knew that he'd think it was really cool.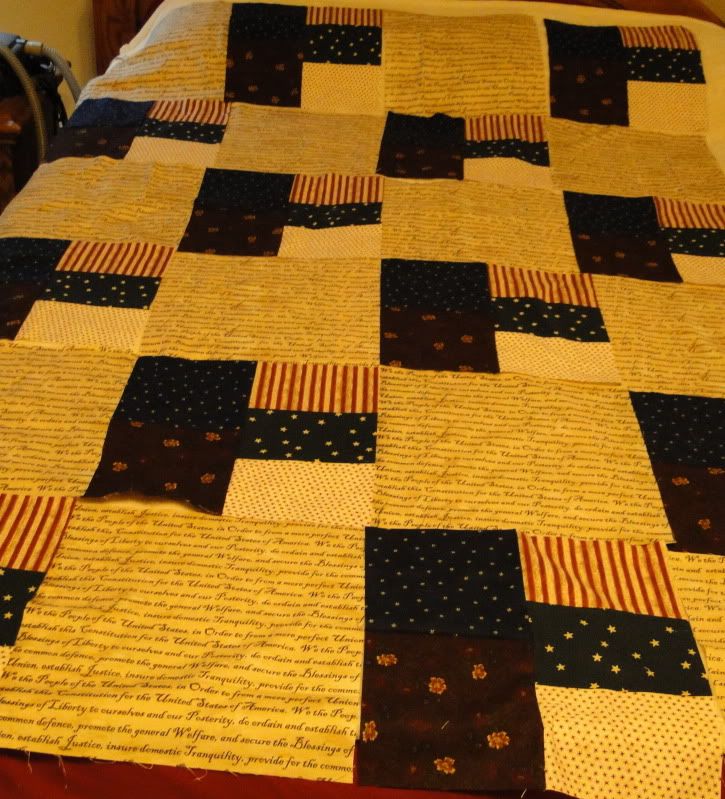 pieced together-unfinished. sans both borders.
Obviously that is not going to be his only fathers day gift. I've got something manly hidden away.
That was a couple weeks ago.
I am now working on my second quilt-- Brady knows about and has seen the Americana quilt. I was sewing when he got home from work and he found me out. He really likes it. I am blessed beyond compare to have a Grandma who has diligently worked at perfecting a skill that used to be a hobby and is now a thriving business. Blessed that she worked so hard and is wanting and able to pass what she's learned along to me.
All that to say-- on Sunday my soon-to-be sister-in-law had her Bridal Shower. I had thought about saving the throw pillow I had made for the wedding but I couldn't wait. I eagerly waited while she opened up gift after gift--getting closer to mine. The smile on her face did not disappoint.

the pillow says, "where he and she became we"
update.
Sunday Brady finally finished the floor in the duplex which means we can move in in 7 days. The only thing we are waiting on now if for the epoxy to cure, an air duct cleaning, and a professional deep clean.
So our move in date is set for June 16! Hallelujah!
I'm having mixed emotions. I am excited to move in but sad to see our time with my grandparents come to a close.
Our future is bright, my heart is full.