There are certain things that I miss when I'm dieting. Burgers, fries, chicken strips... I was a fast food junkie for years! When I stumbled upon this recipe I knew it was a match made in heaven!
Pretzel Crusted Honey Mustard Chicken Strips!
Thank you Jesus!
Quick and easy to prepare. The whole meal was done within 25 minutes. This one is going in my recipe binder!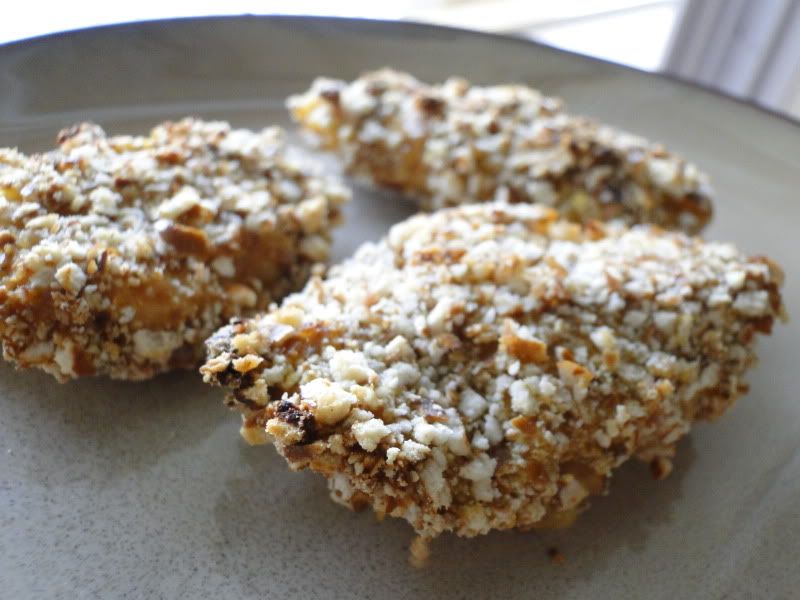 Recipe
Ingredients
1 lb chicken breasts, thawed and cut into strips
3 tbs honey
2 tbs mustard
1 cup pretzels, finely crushed
1/8 tsp salt
1/8 tsp pepper
1/8 tsp garlic powder
Preheat oven to 450 degrees, spray baking sheet with non-stick cooking spray.
Mix together honey and mustard in one small bowl. Mix together crushed pretzels and seasonings and place in another small bowl.
One at a time smother chicken in the honey mustard mixture, then toss chicken in the pretzel mixture making sure it's even coated.
Place chicken on baking sheet and back for 10 minutes, flip and then bake for an additional 5-10 minutes or until chicken is cooked through.
Serve with honey or mustard or a mixture of the two.
Serving: 4 (about 3-4 chicken strips each serving)
Calories: 225 per serving
Weight Watchers Points Plus Value: 7 per serving